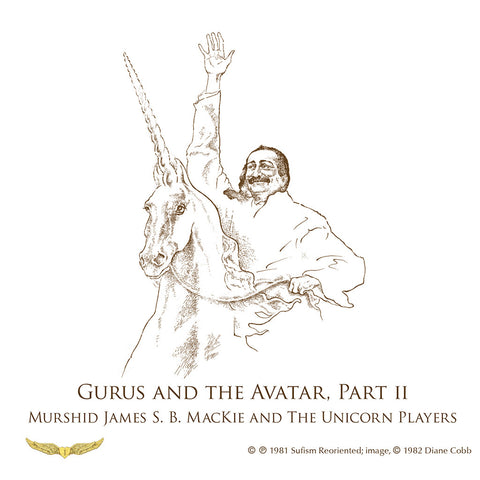 08. Gurus and the Avatar, Part II
Murshid James MacKie
Music and poetry by The Unicorn Players and commentary by Murshid James MacKie celebrate the spiritual path and the role of spiritual Teachers. 

On Disc 1: Murshid MacKie discusses evolution and involution, and the role of spiritual Masters. Musical selections: Wonder Weaver, Turn with Love, Holy Art Thou.
On Disc 2: Murshid MacKie continues his discussion of spiritual Teachers and describes different forms of guruship. Musical selections: God is in the Heart of All, A Thousand Faces, Mandala of Love, Friends of God, Light upon Light. The work of the guru in focusing the Light of Illumined Knowing is considered, and the manner in which contact is made with the guru is presented. Musical selections: The Kiss, the Curl, and the Glance. Dramatic selections: The Scholar, The Thief. Murshid MacKie highlights the fundamental conditions of discipleship. Musical selections: To Enter the Door, Long I Lived for Material Pleasures.
On Disc 3: Musical selections: Knowing What We Know, God-Man's Tears, Tattered Rags of Consciousness. Further consideration of the conditions of discipleship by Murshid MacKie. Musical selections: Locked in Death's Firm Grip, I Come an Errant, Civility on the Path. The final recognition, experienced with the profoundest gratitude, is that the Master and the disciple are One. Musical selection: Take Us With You.
On Disc 4: Musical selections: Thank You for Being Me, Gold Melting, A Thousand Faces, Holy Art Thou.
March 15, 1981 | Chronological list of seminar albums | Complete set available