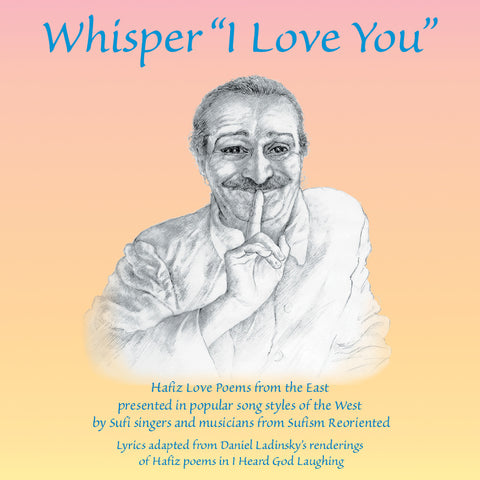 Whisper "I Love You"
Hafiz love poems from the East presented in song styles of the West: rock, pop, ballad, blues, cabaret, bossanova and more. All lyrics adapted from I Heard God Laughing, Renderings of Hafiz by Daniel Ladinsky.
Fifteen songs composed and performed by Sufi musicians including Antoinette Davis, Randy Hammon, Hank Mindlin, Mischa Rutenberg, Victor Seckeler, and Julia Skiff.
The Mood Is Also Busy – preview
Awake Awhile – preview
Forever Dance
Awake Awhile
You Better Start Kissing Me
I Took It as a Sign
Cast All Your Votes for Dancing
I Will Hire You as a Minstrel
Of Course, Things Like That Can Happen
Keeping Watch
It Cuts the Plow Reins
If It Is Not Too Dark
I Am So Glad
Saints Bowing in the Mountains
The Moon Is Also Busy
My Sweet, Crushed Angel
A Tethered Falcon