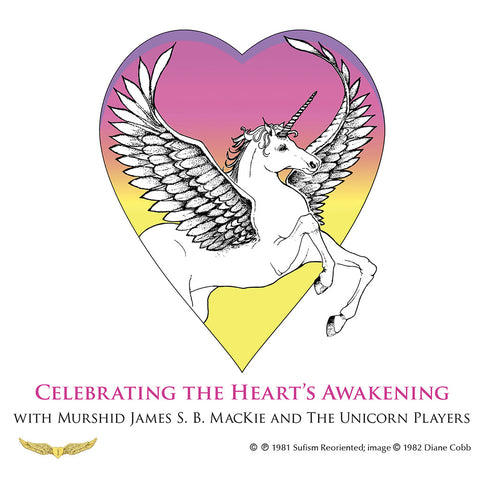 14. Celebrating the Heart's Awakening
Murshid James MacKie
"You have experienced love before; now affirm it."
This dramatic program draws on the humor, poetry, and musical talents of The Unicorn Players to dramatize the joys and dilemmas of spiritual growth and experience.
Following its premier at the John F. Kennedy Center for the Performing Arts in Washington, DC, Celebrating the Heart's Awakening began a national tour that included performances in New York and San Francisco. Murshid James S.B. MacKie of Sufism Reoriented narrated these programs.
Disc 1: Sunlight (John Krchniak and chorus); Well Brought Up People (Murshid James S.B. MacKie, chorus, Alice Travis, Francine Tacker, Carol Weyland, Julie Kohl, Hank Mindlin, Victor Seckeler); Disc 2: The Pink Pamphlet (Travis and Tacker); Where Did We Fail? (chorus); Unicorn in the Meadow (Zuheir Al-Faqih); Ed's Leaving School (Al-Faqih, Krchniak); Ed's Review of Drugs (Al-Faqih, Tacker, Richard Cruser); The Man in the Hudson (Tacker); Linda's Monologue (Tacker); Disc 3: Levels of Love (Tacker, Travis, Al-Faqih, Seckeler); Gold Melting (chorus); Linda's Closet (Tacker); Costumes of Consciousness (Tacker, Carol-Leigh Duce, chorus); Mark and Lora at Home (Cruser, Travis); Lora's Monologue (Travis, chorus); Disc 4: Love's Golden Bridge (Tacker, Travis, Al-Faqih, Cruser); Celebration (chorus).
1981 | Chronological list of seminar albums | Complete set available